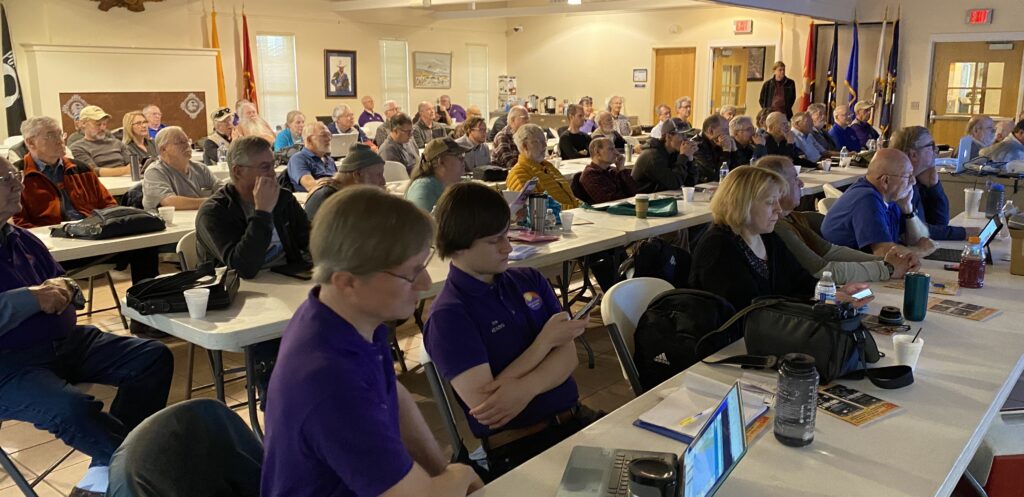 Rocky Mountain Ham Radio, New Mexico is pleased to announce the 2021 New Mexico TechFest, an ARRL-sanctioned operating specialty event, on Saturday February 27, 2021.  Due to the ongoing COVID-19 pandemic and uncertainty around New Mexico's public health orders, this year's event will be conducted virtually.
Join fellow amateur radio operators from around the Land of Enchantment (and beyond) for a day of quality presentations, demonstrations, and instruction provided by some of New Mexico and Colorado's most experienced technical hams on a variety of emerging and relevant technical topics within amateur radio today. The New Mexico TechFest is designed to provide a unique opportunity for all hams interested in the technical aspects of our hobby to advance and expand their technical knowledge and to facilitate technical discussion, collaboration, and discuss ideas with one another.
Ham-specific and presentation-related prizes will be drawn throughout the TechFest event.
Mark your calendars, spread the word, and join us for TechFest 2021!
TechFest Presentation and Demo Lineup and Schedule
(Schedule times subject to change)
8:00am: Launch of New Mexico TechFest pico-balloon with VHF APRS or HF WSPR tracking payload (Weather permitting.  Special thanks to Don Giles KM5XK and Dean Shutt AL7CR for donating helium for launch)
8:00-8:30am: Open forum for TechFest attendees to collaborate virtually
8:30-8:45am: TechFest kickoff, welcoming comments
8:45-9:00am: Overview of presentations
9:00-9:50am: Grounding and Bonding for Home HF Stations (by Ward Silver N0AX of St. Charles, Missouri)
10:00-10:50am: What Kind Of Solar Cycle Awaits? (by Dr. Scott McIntosh, Deputy Director of National Center for Atmospheric Research of Boulder, Colorado)
11:00-11:50am: QRSS — Then and Now (by David Hassall WA5DJJ of Las Cruces, New Mexico and Dr. Scott Harden AJ4VD of Gainesville, Florida)
12:00-12:50pm: Modern DSP Tools for Amateur Radio (by Richard Naething AE5JI of San Antonio, Texas)
1:00-1:50pm: Through Earth Communications Systems for Cave Studies (by John Lyles K5PRO of Los Alamos, New Mexico)
2:00-2:50pm: Batteries: Their Chemistries, Care and Feeding (by James Cizek KI0KN of Loveland, Colorado)
2:50-3:15pm: Final prize drawings, closing comments
3:15-4:00pm: Open forum for TechFest attendees to collaborate virtually
>>> Click here to download Presentation abstracts and Speaker biographies
Register to Attend the New Mexico TechFest
TechFest admission is $10, payable via online registration. Pre-registration is required to attend.
>>> TechFest registration has closed. 
What will proceeds from 2021's New Mexico TechFest be used for?
Cost of license for professional Zoom account to conduct this year's event
Purchase of prizes, since donations may be hard to come by for many businesses this year
Cost to ship/deliver prizes to their lucky winners
Cost of material to conduct launch of New Mexico TechFest pico-balloon with VHF APRS or HF WSPR payload on day of event (weather permitting)
Remaining proceeds will be applied directly to the continued expansion of RMHAM's 5-GHz multi-megabit amateur radio microwave network/backbone, an infrastructure to enable partnered amateur radio clubs to expand their repeater capabilities.
2021 TechFest Prize Lineup and Contributors

We are excited to give away a number of purchased and donate prizes at this year's event (because this year's event will be virtual, we will ship/deliver prizes to their lucky winners).
Prize lineup (subject to change)
TinySA 0.1 – 960 MHz spectrum analyzer
Yaesu FT-4XR Dual Band FM Transceiver
Baofeng DM-1801 Dual Band DMR & FM Transceiver
SDRplay RSPdx 1kHz – 2 GHz Software Defined Receiver (Donated by Bill Boedeker NM5BB)
QRP Labs 40m QCX+ single-band 5 W CW transceiver kit with WSPR beacon and built-in alignment/test equipment (Donated by David Hassall WA5DJJ)
Turnigy Reaktor 300W 20A 6S multi-function, multi-chemistry balance battery charger
Two NiteCore NU32 rechargable 550 Lumen LED headlamps
30m TAPR WSPR transmitter & Raspberry Pi (Donated by TAPR)
40m TAPR WSPR transmitter & Raspberry Pi (Donated by TAPR)
MFJ Enterprises – antennas and station accessories (Donated by MFJ Enterprises)
The Ham Badgers – Five vouchers for customized accessories (Donated by The Ham Badgers)
ARRL gift certificates (Donated by ARRL)
ARRL Propagation and Radio Science book
ARRL Grounding and Bonding book
ARRL QEX Magazine – 2 one-year subscriptions (Donated by ARRL)
(Additional prizes to be announced)
Rocky Mountain Ham Radio and the New Mexico TechFest wishes to recognize and thank the following prize donors:
Interested in donating a prize to the New Mexico TechFest?  Please contact us via email at techfest@rmham.org.  Rocky Mountain Ham Radio is a 501(c)(3) charitable non-profit organization and donations are tax-deductible.
»»» Registrant prize drawing number assignments
Event Flyer
A printable event flyer is available for posting on ham listserves, within your club's newsletter, or on your club's website. Please help us spread the word across the amateur radio community about this unique event.
»»» Download and help pass around the New Mexico TechFest flyer.
Call for Presentations and Important Dates
The New Mexico TechFest seeks high quality presentations and demos on emerging and relevant amateur radio technical topics, techniques, and applications. Original content highly encouraged. Hams interested in conducting a TechFest presentation or demo should submit a summary/abstract of their proposed topic to techfest@rmham.org for consideration. Please note the following:
Call for TechFest presentations and demos: Today-January 17, 2021
Deadline to submit summary/abstract of proposed presentation or demo: January 17, 2021
All submitted proposals reviewed by TechFest committee: January 18-21, 2021
Final TechFest presentation lineup selected, posted on event website: Week of January 24, 2021
TechFest registration open: Week of January 24, 2021
Presentation slots are generally 50 minutes in length, including all anticipated discussion and Q&A.
More than one presentation or demo proposal may be submitted for consideration.
Sales and promotional presentations are not permitted.
For inquiries or to submit your technical presentation abstract, please email us at techfest@rmham.org