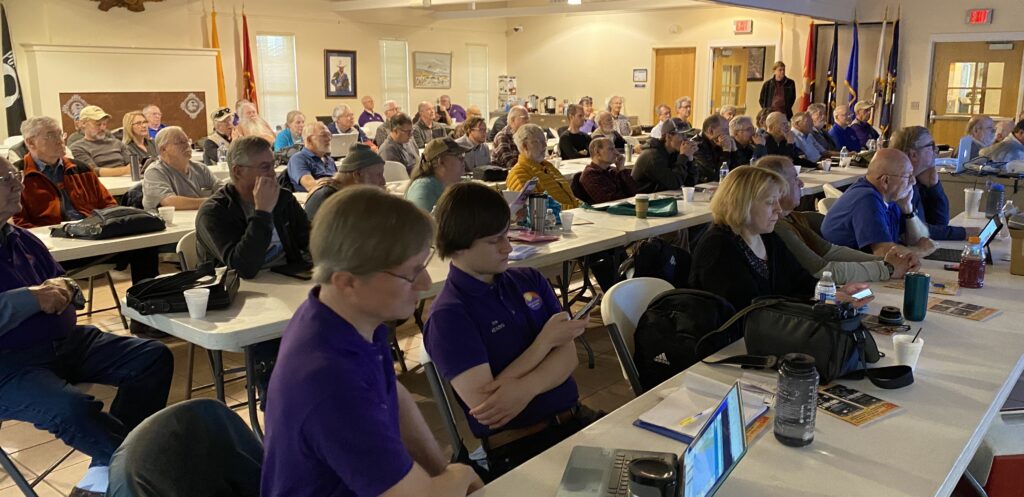 Rocky Mountain Ham Radio, New Mexico is pleased to announce the 2022 New Mexico TechFest, an ARRL-sanctioned operating specialty event, on Saturday March 5, 2022.  Due to a short notice and prohibitive rental cost increase at TechFest's traditional venue and ongoing COVID-19 mandates related to large indoor events, this year's event will be conducted virtually.
Join fellow amateur radio operators from around the Land of Enchantment (and beyond) for a day of quality presentations, demonstrations, and instruction provided by some of New Mexico and Colorado's most experienced technical hams on a variety of emerging and relevant technical topics within amateur radio today. The New Mexico TechFest is designed to provide a unique opportunity for all hams interested in the technical aspects of our hobby to advance and expand their technical knowledge and to facilitate technical discussion, collaboration, and discuss ideas with one another.
Ham-specific and presentation-related prizes will be drawn throughout the TechFest event.
Mark your calendars, spread the word, and join us for TechFest 2022!
TechFest Presentation and Demo Lineup and Schedule
(Times shown are MST.  Schedule times subject to change)
8:00-8:30am: Open forum for TechFest attendees to collaborate virtually
8:30-8:45am: TechFest kickoff, welcoming comments
8:45-9:00am: Overview of presentations
9:00-9:50am: Urban RFI and Ham Radio (by Ken Wyatt WA6TTY from Woodland Park, Colorado)
10:00-10:50am: Arducon: An Open-Source ARDF Transmitter Controller (by Jerry Boyd, W8WFK from Albuquerque, New Mexico and Charles Scharlau, NZØI from Cary, North Carolina)
11:00-11:50am: NTSGW: A Winlink to BPQ Gateway Development Project (by Willem Schreuder ACØKQ from Evergreen, Colorado)
12:00-12:50pm: Expansion of 5-GHz Microwave across Colorado, New Mexico, and into Texas (by Brian Mileshosky N5ZGT from Albuquerque, New Mexico)
1:00-1:50pm: SOAR: Satellite Optimized Amateur Radio (by Mark Smith N6MTS from Arroyo Grande, California)
2:00-2:50pm: Antenna Modeling tips and techniques using Nec2Go (by Pat Wintheiser WØOPW from Pillager, Minnesota)
3:00-3:50pm: Analysis of Complex Ionospherically Induced Doppler Shifts on HF Skywave Signals (by Steve Cerwin WA5FRF from Mico, Texas)
3:50-4:15pm: Final prize drawings, closing comments
4:15-5:00pm: Open forum for TechFest attendees to collaborate virtually
>>> Click here for Presentation abstracts and Speaker biographies.
Register to Attend the New Mexico TechFest
TechFest admission is $10, payable via online registration. Pre-registration is required to attend.
(Note: Registration closes on Friday, March 4 at 12:00 Noon MST.)
>>> NOTE: Event Registration has Closed
What will proceeds from 2022's New Mexico TechFest be used for?
Cost of license for professional Zoom account to conduct this year's event
Purchase of prizes, since donations may be hard to come by for many businesses this year
Cost to ship/deliver prizes to their lucky winners
Remaining proceeds will be applied directly to the continued expansion of RMHAM's 5-GHz multi-megabit amateur radio microwave network/backbone, an infrastructure to enable partnered amateur radio clubs to expand their repeater capabilities.
2022 TechFest Prize Lineup and Contributors

We are excited to give away a number of purchased and donate prizes at this year's event (because this year's event will be virtual, we will ship/deliver prizes to their lucky winners).
Prize lineup (subject to change)
Assorted MFJ Enterprises items and accessories (Donated by MFJ Enterprises)
(Qty 3) ARRL gift certificates (Donated by ARRL)
(Qty 2) Radio Frequency Interference RFI Pocket Guide
(Qty 2) Subscription to QEX magazine (Donated by ARRL)
Tecsun PL-360 RFI Finder AM/FM/SW portable radio
(Qty 2) tinySA 0.1 – 960 MHz Spectrum Analyzer (one donated by Ed James KA8JMW)
VEC-1290K Vectronics AM Radio Transmitter Kit
Additional prizes will be added soon.
Rocky Mountain Ham Radio and the New Mexico TechFest wishes to recognize and thank the following prize donors:
Ed James KA8JMW
Additional prize donors will be added soon.
Interested in donating a prize to the New Mexico TechFest?  Please contact us via email at techfest@rmham.org.  Rocky Mountain Ham Radio is a 501(c)(3) charitable non-profit organization and donations are tax-deductible.
»»» Unique prize drawing number assignments for registrants
Event Flyer
A printable event flyer is available for posting on ham listserves, within your club's newsletter, or on your club's website. Please help us spread the word across the amateur radio community about this unique event.
»»» Download and help pass around the New Mexico TechFest flyer.
Call for Presentations and Important Dates
The New Mexico TechFest seeks high quality presentations and demos on emerging and relevant amateur radio technical topics, techniques, and applications. Original content highly encouraged. Hams interested in conducting a TechFest presentation or demo should submit a summary/abstract of their proposed topic to techfest@rmham.org for consideration. Please note the following:
Call for TechFest presentations and demos: Today thru February 18, 2022
Deadline to submit summary/abstract of proposed presentation or demo: Friday February 18, 2022
All submitted proposals reviewed by TechFest committee: Weekend of February 18, 2022
Final TechFest presentation lineup selected, posted on event website: Sunday, February 20, 2022
TechFest registration open: Week of February 20, 2022
Presentation slots are generally 50 minutes in length, including all anticipated discussion and Q&A.
More than one presentation or demo proposal may be submitted for consideration.
Sales and promotional presentations are not permitted.
For inquiries or to submit your technical presentation abstract, please email us at techfest@rmham.org