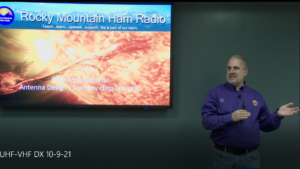 2022-2023 RMHAM U Season is coming soon.  We are working on a good class schedule and we will be announcing 2022-2023 schedule and course syllabus sometime in September 2022.  Please check back.
Classes will be both in person at the Cherry Creek Schools Educational Services Center, 4700 South Yosemite Street, Greenwood Village, CO  but will but will also be simulcast on Zoom.  Many of the classes are in the form of a lab, so we are looking forward to meeting in person.  RMHAM University full length classes are scheduled from 8:30AM to Noon on the listed day.  Once you sign up, you will have access to the zoom information in the registration system.  You may ask questions via chat or via your microphone.
All of our courses are free to the public, but you will need to register to get the Zoom meeting information.  To sign up, please click here
If you are here looking for RMHAM TECH TALKS, just use the sign-up link.
Any Tech Talk classes are 1 hour, from 7:00PM-8:00PM on the listed day.  You may ask questions via chat or via your microphone.
Past video and presentations are available under Course Syllabus.
| Date | Instructor | Class | Signup |
| --- | --- | --- | --- |
| 11/12/2022 | Mike K0NGA | Chinese DMR Programming | Signup |
| 12/10/2022 | Bob K0NR | Ham Radio In strumentation | Signup |
| 1/14/2023 | James KI0KN | 3D Printing | Signup |
| 2/11/2023 | Various | NERDfest - short talks on various short subjects. | Signup |
| 3/18/2023 | Willem AC0KQ and John W0VG | Solving Problems with IPv4 | Signup |
| 4/8/2023 | Ben KC2VJW | Troubleshooting | Signup |