As of 8/8/21, Mark Skelton, N7CTM has made the valiant trek to Mosquito Pass/Leadville and found that our equipment took a lightning hit.  It blew up the surge suppressors and also took out or microwave radios.  We're back up on a new Microwave shooting at Badger Mountain, but we're going to have to wait til next weekend 8/14 to put the full link system back on-line going west.  Right now, we're failed to the commercial internet going west and it's working fine.
As of 8/7/21, W0VG, K2AD, N7CTM, N0RPF and K0BRA repaired a "Rodent Induced Failure" that caused both cat5 cables and fiber optics jumpers to become "air-gapped" which caused the site to go offline.  The site is partially repaired as the fiber must be completely replaced and encased in conduit to stop further damage.  This will happen 8/11 if the gear is received in UPS.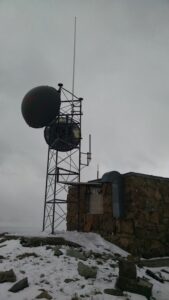 As of 8/6/21 we have lost a microwave feeding to the west and it has isolated Leadville and Vail.  We a team scheduled to repair Vail tomorrow morning and we have someone scheduled to be on-site on Sunday in Leadville to check on the situation.  We apologize for the inconvenience and hope to have it restored soon!