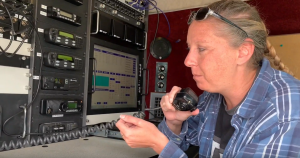 The 2019 Field Day was a blast.  We woke up Saturday morning to 1/2″ of snow all over everything.  The folks that were camping in tents were a bit chilly, but it was a great event.   We had 3 stations on for the whole event and made plenty of contacts.
The food was good as usual and the camaraderie was wonderful.  Lots of people to work.
Make sure you click on the picture to see the field day video.
If you want to have a good time for field day, make sure you let us know and get on the list!