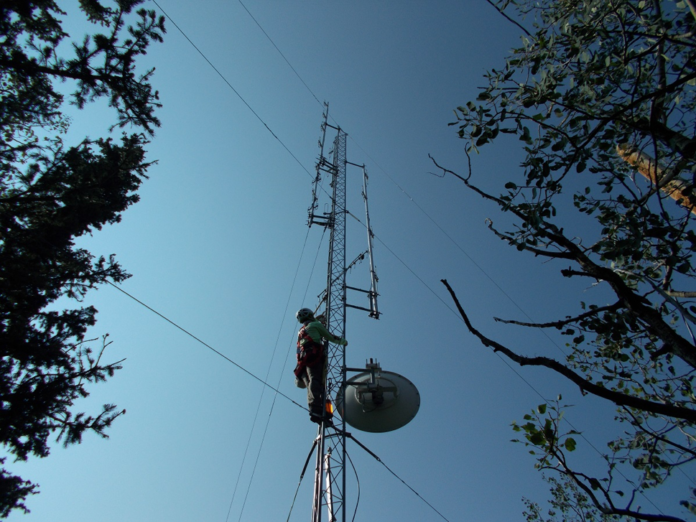 This past weekend the Rocky Mountain Ham Radio (RMHAM) 5-GHz microwave network was expanded to now include a link between Picuris peak near Taos, NM and San Antonio mountain.  The two mountains are now connected to the rest of the RMHAM network via a microwave link to a VPN entry point in Taos.  RMHAM's microwave network utilizes point-to-point links on Part 97 spectrum, providing megabit class IP connectivity to mountaintop sites throughout Wyoming, Colorado and New Mexico.
In addition to the microwave installation between Picuris and San Antonio mountain, the Taos Amateur Club (TARC) installed a UHF DMR repeater on Picuris.  An Icom G3 UHF D-STAR repeater, donated to TARC by RMHAM, was also installed atop San Antonio mountain. Both systems tied into the RMHAM microwave network, the Taos Amateur Radio Club's DMR and D-STAR repeaters are accessible to/from the rest of the world.  All hams are invited to use these systems.
The Picuris peak DMR repeater is configured with the following talk groups:
Picuris Pk. KF5PFO

442.175 (+5 MHz)

Color code 5

Talk Group
Time Slot
TX Talk group
RX Group
Rocky Mountain Wide
1
700
700
Rocky Mountain South
2
719
719, 505,715
New Mexico
2
505
719, 505,715
Local
2
715
719, 505,715
The San Antonio mountain D-STAR repeater is configured with the following settings:
075MHz (+5.00 MHz)
RPT1: KF5PFO B
RPT2: KF5PFO G
Rocky Mountain Ham Radio and the Taos Amateur Radio Club are 501(c)(3) registered non-profit charitable organizations.  If you would like to learn more about these organizations or support their missions through a tax deductible financial contribution, please contact RMHAM-NM president Brian Mileshosky N5ZGT (bpmiles@gmail.com) or Taos ARC president Brian Williams NB5R (nb5r@yahoo.com).
Rocky Mountain Ham Radio website: https://www.rmham.org
Taos Amateur Radio Club website:  https://www.taosarc.org/